If you haven't made reservations for Saturday or Sunday's Easter Brunch in South Tampa, you better hop to it! Chef Chad Johnson has prepared a three-course brunch that covers all your deepest cravings for something sweet or savory. Choose from three courses or à la carte.
First Course includes your choice of Fresh Fish Tacos with queso fresco and chayote slaw, Caldo Verde with chorizo, escarole and potatoes, Snow Crab Claws paired with a jalapeno & basil remoulade, or our Burger Benedict showcasing a 1 oz. burger patty with pickles, cheddar and our specialty comeback hollandaise sauce.
Second Course features your choice of (my personal favorite!) Shrimp & Grits loaded with peppers, scallions, crispy pork belly and a soft-cooked egg, Frittata with piquillo, spinach and feta, Sourdough Pancakes topped with crisp apples, macadamia nuts and bourbon, or the Grilled Cheese stuffed with roasted turkey, spicy tomato jam, bacon, alpine blend with brioche bread.
Third Course includes a delightful mixture to pick from. Enjoy fresh Fruit & Yogurt with black sesame granola, honeycomb, tropical fruits and berries, Artisanal Cheese Plate with three Chef selections and sticky garnishes, Boston Cream Cupcake with a rich bourbon chocolate ganache, vanilla anglaise and whipped cream, or the Doughnut Bites dusted with cinnamon sugar and red berry coluis.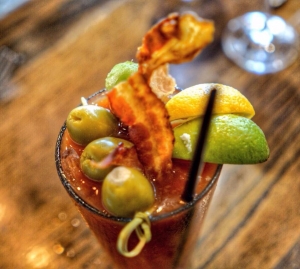 Our three course brunch is $32 per person.
Interested in one course instead of three? Go à la carte and tempt your taste buds with our famous Croque Monsieur or our savory Biscuits & Gravy. Check out the full Élevage brunch menu here.
Last, but not least … the brunch beverages. Pick between four of our classic and bottomless brunch cocktails; Prosecco, Mimosa, Bellini or Bloody Mary for $15.
Reservations are not required, but highly recommended. Brunch hours are 9 a.m. to 3 p.m. Saturday and Sunday. To make a reservation call (813) 999-8726.