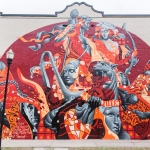 Pilates & Prosecco: Saturday, October 7th, 9:30am – 10:30am
Work on your body-mind connection and reward yourself with a glass of bubbly.  We invite you to Epicurean's newest workout class series; Pilates & Prosecco!  Gather your friends this Saturday inside Epicurean's Grand Cru Ballroom for a morning of core strengthening followed by a gratifying glass of prosecco.  Classes will be taught by the "Contrology" experts from Club Pilates South Tampa, one of Epicurean's newest neighbors. There is no better way to start off the weekend than working on your core and indulging with a glass of prosecco. Purchase your tickets here.
Ready, Set, Veuve Clicquot: Élevage Brunch every Saturday & Sunday
Raise your glasses and standards because Veuve Clicquot yellow label is now offered at Élevage brunch every weekend! Enjoy the crème de le crème of champagnes for just $10  per glass. Let's be honest, one of the best aspects of brunch in Tampa is the booze. Not only does Élevage serve one of the most recognized champagnes in the world, they also offer bottomless mimosas, Bellini's AND Bloody Mary's for just $15. What's better than getting toasted while filling your belly with delicious brunch entrees in a breathtaking setting? We'll wait. Make a reservation today!