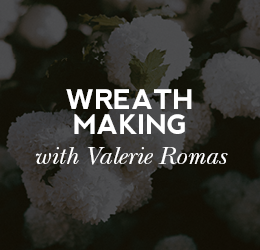 Wreath Making Class
Date
Sunday, June 6
Time
2pm - 5pm
Price
$100
Tickets Available
30
Venue
Epicurean Hotel
Grand Cru Ballroom
1207 S. Howard Ave
Tampa, FL 33606
Event Information
Stylist Valerie Romas will guide you through the steps of making your very own wreath to take home. Using an assortment faux flowers and mixed ribbon, you can make your wreath a one of a kind creation. Enjoy light bites and beverages while you get to work creating your masterpiece!
Two glasses of wine included with ticket purchase.
Sample Wreath Photo to come.
Valerie Romas – 'Style Your Life'
Born and raised in New York, Valerie Romas graduated with honors from The Fashion Institute of Technology in New York City. Her love of design and display drew her into the Visual Merchandising field, where she had the opportunity to work with big clients like Saks Fifth Avenue, Gucci and Neiman Marcus. Valerie branched out and started her own company, offering wardrobe styling, visual merchandising and home staging, where she had the chance to work with "Project Runway's" Tim Gunn. In 2017 and 2019, Valerie was chosen to style the Tampa Bay Rays for 'Rays on the Runway', a fashion show benefiting The Children's Dream Fund, an organization that helps children with life threatening illnesses. Her styling work can be seen in publications for The Tampa Bay Times, The Washington Post and the May 2019 issue of Haute Living Magazine, where she styled Giancarlo Stanton of The NY Yankees.
She has since expanded her services to include holiday installation for numerous businesses across the Tampa/St. Pete/Clearwater area, including Armature Works, Reeves Import Motorcars, Datz Corporation and Red Mesa Restaurant Group. Her warm and creative approach is what keeps her business growing and ever evolving.