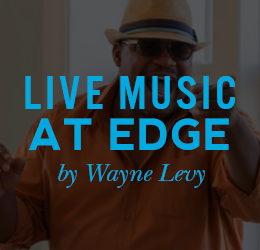 Live at EDGE: Wayne Levy
Date
Wednesday, May 12
Time
6pm - 9pm
Venue
Edge Rooftop Cocktail Lounge
1207 S. Howard Ave
Tampa, FL 33606
Event Information
Wayne Levy is a keyboard, song write. Graduated from the Full Sail of the Recording Arts, Orlando, Florida and produced his first R&B record in 1996. Wayne has performed or toured with local Blues and R&B band in Boise, Idaho from 1990 to 2005, including Jason Parra, and Smoking Todd. He has opened for such music greats as CoCo Montoya, R&B Legend Lester Chambers and recently opened for legendary Soul/Blues Singer Clarence Carter. Wayne returned to his hometown Lake City, Florida in 2005 and has continued to perfect his musical talent. He has performed with such musical talents as Matt Marshak, Jeff Kashiwa, Jessy J, and Unam. Wayne has built a very successful career as the leader of the 8 piece Band Organic Soul.
Wayne will be playing currents and top 40 music.
Come early and enjoy Happy Hour at EDGE Rooftop Cocktail Lounge from 5pm – 7pm!