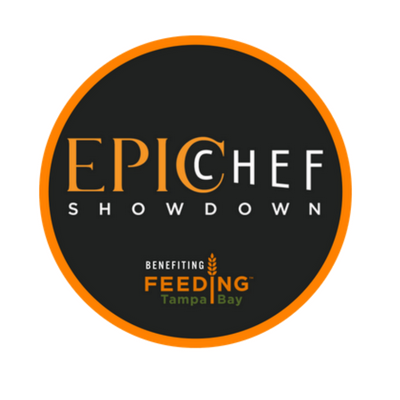 Epic Chef Showdown: Noble Crust vs. The Rooster & The Till
Date
Monday, August 5
Time
6:30PM - 9:00PM
Price
$250 (Package of Two Tickets)
Tickets Available
5
Venue
Epicurean Hotel
1207 South Howard Ave
Tampa, FL 33606
Event Information
The Epicurean Hotel is hosting the fifth annual Epic Chef Showdown to benefit Feeding Tampa Bay, the area's largest food rescue and distribution organization. The Epic Chef Showdown is a seven-week competition pitting eight of the Tampa Bay area's top restaurants against each other in a friendly cooking competition judged by a panel of local celebrities.
Each week, two competing chefs will receive a mystery box of ingredients not commonly prepared together, and will be challenged to create two unique dishes under the pressure of the clock. When time is up, each dish will be judged and one restaurant will be eliminated, with the winner moving on to the next round.
Epic Chef Showdown events will take place at the Epicurean Hotel's Epicurean Theatre from 6:30 p.m. to 8:30 p.m. A limited number of tickets to the public are available and include a coursed meal with wine pairings, inspired by the participating restaurants and Élevage.
Tickets are sold in pairs of two and will be released for purchase on Thursday, August 1st, 2019 at 10 a.m.
WEEK 4
Noble Crust vs. Rooster & The Till
Can't make it to the Epicurean Theatre? Watch all the action live from the comfort of your own home with The Identity Tampa Bay!
Learn more at EpicChefTampaBay.com