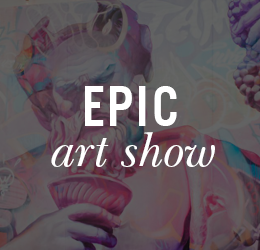 Epic Art Show – Hour Three
Date
Saturday, April 24
Time
7pm - 8pm
Price
$20
Tickets Available
40
Venue
Epicurean Hotel
2nd Floor Garden Terrace
1207 S. Howard Ave
Tampa, FL 33606
Event Information
Epicurean's Epic Art Show!
Join us for a night of Epic Art! This ticket allows viewing from 7pm – 8pm.
Where all four of Epicurean's founding pillars – Food, Wine, Art and Culture – combine! Sip on a complimentary glass of wine and take a gander at artwork from local Tampa Artists on the Garden Terrace. All pieces are also up for sale so you can take your favorite home.
Your safety is our priority. In addition to the mask requirement indoors, we are offering tickets for one hour viewings to provide optimal social distancing during the show.
Make it a full day with reservations at Élevage SoHo Kitchen & Bar before or after your viewing.
Reservations via Yelp or 813-999-8726.
Residency Artist
Meclina Priestly- @meclinaart
Noland Anderson – @nolandandersonart
Mark Anthony- @markanthony_art
Featured Artist
Melisa Koby – @mkoby_
Jaurice Moore – @indiereece
Langstn – @lang.stn
Ron Simmons – @ronsdot
Rojo the Artist – @rojotheartist