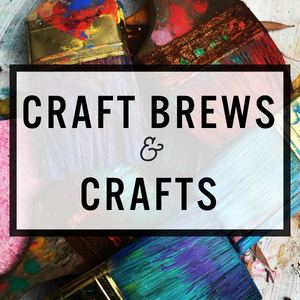 Craft Brews & Crafts
Date
Tuesday, October 16
Time
7:00 pm - 9:00 pm
Price
$65.00
Tickets Available
32
Venue
Epicurean Theatre
1207 S Howard Ave
Tampa, FL 33606
Event Information
Join us to enjoy craft brews while crafting!
This adults-only class will be taught by local artist Tim Gibbons from Funky as a Monkey Studio. Using the Hidden Springs Ale Works beverage logos for inspiration, you will create your own masterpiece using pencil and collage techniques. During the class, attendees will enjoy samples of Hidden Springs Ale Works' signature beers.
Art materials will be provided and you are welcome to bring in any items to customize your artwork, such as photographs, favorite beer labels, or anything that resonates with your love of brews and their lifestyle.
The focus of the evening is beer, expression, fun and creativity. This is a creative art class; not a paint by numbers!