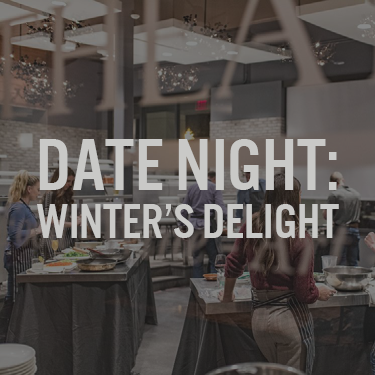 Chef Jeff Philbin Presents: Date Night: Winter's Delight
Date
Friday, January 10
Time
7:00pm - 9:00pm
Price
$185 per couple
Tickets Available
2
Venue
Epicurean Theatre
1207 S Howard Avenue
Tampa, FL 33606
Event Information
Did someone say brie? Escape the cold for a cozy night in as we bake brie, toss together a winter salad and prepare a delicious garlic rosemary sauce for a pork roast lion. We'll finish it off with a maple crème brûlée that's sure to put the "comfort" in comfort food.
Menu
Baked Brie
Winter Salad
Garlic Rosemary Pork Roast Lion
Maple Crème Brûlée
Stellar cooking is more than just recipes—it's all about the techniques! During this interactive class, you'll work together with other students in a fun, hands-on environment led by our professional chef instructors. Students will be divided into groups of 4 to learn hands-on skills for one of the dishes listed above.