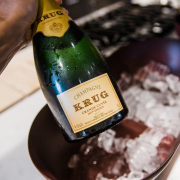 Bern's Winefest: Tete de Cuvee Champagne Seminar
Date
Tuesday, April 21
Time
6:30pm
Venue
Epicurean Theatre
1207 S Howard Ave
Tampa, FL 33606
Event Information
This is our most indulgent seminar hosted by guest speaker Victor Blanchet, featuring Moët Hennessy's top Cuvées. This brand of wines and spirits is truly like no other in the world. This evening will include five of your favorite Champagnes selected by Bern's Steak House Sommeliers in harmony with luxurious breakfast favorites prepared by Haven's Chef Chad Johnson. Enjoy the elegance or our most decadent seminar this week.
Reception: TBD
Course 1: Dom Ruinart Blanc de Blanc Grand Cru 2007
Course 2: Veuve Clicquot La Grande Dame Blanc 2008
Course 3: Krug Grande Cuvée
Course 4: Moët & Chandon MCIII Blanc MV & Dom Perignon Blanc 2008
*This seminar will serve four fully composed courses paired with each Champagne.
Attire: Casual Chic
Complimentary valet parking at the Epicurean Hotel with ticket
Please note: Due to the format of this dinner; allergies and dietary substitutions cannot be accommodated.
Details and tickets click here