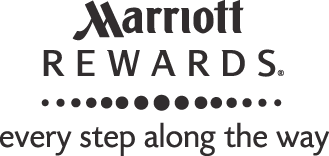 Marriott Rewards continually comes out on top among hotel loyalty programs. Here's how:
More choices
Earn and redeem points at any of 14 distinctive brands and 3,600+ hotels in 70 countries and territories – the largest portfolio of award-winning brands in the industry.
More resorts, golf + spas
We offer more resorts, golf and spas than any other hospitality program. Plus, enjoy our "no hassle" experience, with benefits like "No Blackout Dates" and "Best Rate Guarantee."
More benefits to discover
As a Marriott Rewards member, your journey begins with great basic features like earning and redeeming points for free nights or free flights, "No Blackout Dates" and priority check-in. As you grow with the program, you can achieve Silver, Gold or Platinum membership and enjoy additional privileges and benefits with each level you achieve.
More personalized experiences
Your preferences are saved so you can expect every detail just the way you want – every time you check in – from how many towels to what style of pillows to your favorite room type. More to come your way Make the most of your travels. Join Marriott Rewards now. It's always free, and always there for you…every step along the way.
Check out all member benefits