An Evening with Gluten-Free Chef, Nichole Campo & Gluten-Free Vodka, Stoli
Wednesday
|
6:00 pm - 9:00 pm
May 24 @ 6:00 pm

-

9:00 pm

|

$65.00
An Evening with Gluten-Free Chef, Nichole Campo & Gluten-Free Vodka, Stoli
Wednesday
|
6:00 pm - 9:00 pm
May 24 @ 6:00 pm

-

9:00 pm

|

$65.00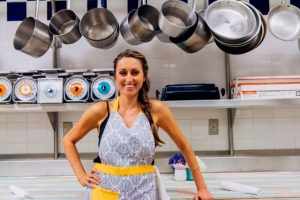 Nichole Campo is a lifelong foodie, self-taught chef, and busy mother of two, all while thriving with celiac disease. She was raised with an appreciation for good food and has a rich culinary heritage; half Italian and half Polish. Nichole is originally from New Jersey and now resides in Florida.
Available in e-book form and published by Benton Buckley Books, Nichole will single handily change your views on what it means to be gluten free with her book, Secrets of My Food Affair: A Gluten-Free Romance. Learn Nichole's story of learning to live with celiac disease, adjusting to gluten-free food all while keeping her families stomachs satisfied. Her book is filled with mouth-watering, gluten free recipes that will have leave you wondering if they are really gluten free at all.
The event will begin with a casual cocktail hour, mingling with other gluten-free foodies and Nichole Campo herself, while Stoli serves up a special, gluten-free cocktail. Then, the event will be moved into the Epicurean Theatre to enjoy a live cooking event. Each dish will be paired with a gluten-free Stoli cocktail.
Menu
Roasted Jumbo Shrimp with a Lemon Artichoke Sauce alongside Crostini
Grilled Chicken with Portobello Mushroom Rosemary (Gluten-Free Stoli) Vodka Cream Sauce
Cannoli with Vanilla Infused Gluten-Free Stoli Vodka Cannoli Cream

Book Details
Title: Secrets of My Food Affair: A Gluten-Free Romance
Pages: 112
eBook Price: $17.99
Nook and Apple: 978-0-9964721-3-5
PDF: 978-0-9964721-1-1
Kindle ASIN: B019BNG62M
Distributor: Small Press United