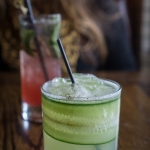 Are you ready to Awaken Appetites Unknown this week and beyond? We're giving you the insider's scoop for upcoming events at Epicurean Hotel and things to do in Tampa to whet your appetite.
Just Grillin: Southern Soul Food Favorites
Thursday, April 6, (7-9 p.m.)
Doug Driscoll from Just Grillin is back by popular demand! Join us as we welcome him back to the Epicurean Theatre for a lesson on southern, soul food. Guests can pick up a few pointers in cast iron cookware and the Big Green Egg, while Doug prepares delicious southern delicacies right before your eyes. Menu includes fried green tomatoes, sweet honey chile chicken and cornbread muffins, southern smoked mac n cheese and hummingbird cake. Tickets are $65 per person, and likely to sell out. Hurry, and snag your seat here.