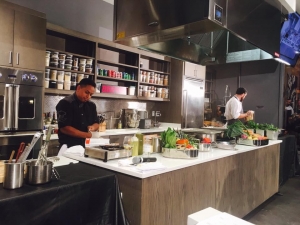 Eight weeks of non-stop action all for an even better cause. This annual cooking competition pits the top local restaurant chefs against each other week by week. In each Epic Chef Showdown round, two competing chefs  received a mystery box of ingredients that are not commonly prepared together, and were challenged to create two dishes that are unique, aesthetically pleasing, and of course delicious — under the pressure of the clock. When time is up, each chef would present their dishes to the judges to be critiqued and scored. At the close of each round, one chef is eliminated and the winning chef moves on to the next round.
Epic Chef Showdown's goal is to bring the local community together to not only enjoy the camaraderie and food from our local top restaurants, but to also take part in something much larger than that happening around us every single day. Hunger is a serious and severe issue in our area — affecting one in seven adults and one in four children. These are our neighbors, coworkers, veterans, and friends who need our help. Epicurean and Feeding Tampa Bay partnered together to create this event and help fight hunger affecting our Tampa Bay community.
Last night, the Epic Chef Showdown finale commenced and one epic chef took the official title as 2016's most epic chef!  The conclusion of a crazy competition wouldn't be complete without some interesting ingredients — lobster and fruity pebbles. Chef Mike from Pearl in the Grove faced off against Parkshore Grill's Chef Mike and both came up with some really remarkable dishes. To give us the full scoop we thought we'd catch up with the Epic Chef Showdown's and Food Network Star, Retro Rad Chef Emily Ellyn, who hosted the competition week after week.